It takes a great RESPECT for tradition and intricate craftsmanship, life-long LOVE for unique indigenous materials, PASSION for innovative, contemporary design with a nod to the past, COMMITMENT to the utmost quality and exacting standards and RESPONSIBILITY to use and promote thoughtful – ethical, social and environmental – practices at every step across all our processes in order to create exquisitely designed timeless handmade fine jewellery and art pieces for the most discerning clientele.
Each piece in our AV STUDIO workshop is created meticulously as if it were a perfect work of art. It is the result of profound respect for the noblest crafting traditions, centuries of experience and expertise, and countless hours of breath-taking, specialized skills, perfected by devoted artisans. AV STUDIO draws on this heritage, as well as on a team of leading craftsmen, encompassing not solely creative inspiration, but also the technical, gemmological, and above all, artistic knowledge, to continuously perfect, advocate and perpetuate the uniqueness, refinement, as well as intrinsic charm of Baltic Amber and leather jewellery and art pieces.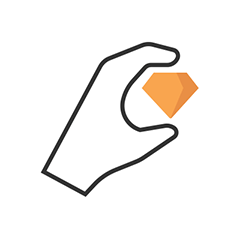 It takes sublime craftsmanship and connoisseurship, unparalleled creativity and bold dynamism, refinement and dedicated passion to transform the innate charm of raw materials – Baltic Amber and leather – into a timeless work of art
Our team of dedicated and daring professionals combine centuries-old crafting traditions with modern production techniques. Blessed with the most profound skills and expertise in the setting and choosing the right material pieces for processing, AV STUDIO artisans add the special magic to each creation from Baltic amber and leather, asserting their unfailing excellence and unmatched elegance.
The indigenous raw materials, AV STUDIO uses for its timeless jewellery and art pieces of singular beauty, are not only precious and unique, but also often complex to handle and require experience and care to be manufactured
Baltic amber is a very delicate and brittle material. Its level of hardness is only slightly higher than that of a fingernail, making it very challenging for craftsmen to work with. A sound knowledge of amber gem's structure, skilful and delicate use of the carving and polishing tools, as well as ability to recognize the right (in shape, colour and shine) nugget are imperative for the refined end result.